IN REPERTOIRE
Posted on January 1, 2014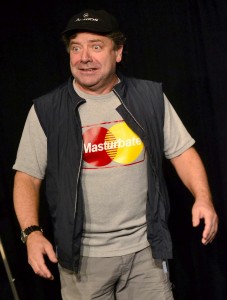 Shortly after leaving my job in the Newsroom of Deutsche Welle, when it still had one that is, I decided to revive one of my solo shows, F…ACCESS ALL AREAS, mainly to see if I could stand on a stage again without falling over. However, as I strained my back getting the set out of the car just before the premiere, the problem was actually more whether I could move at all.
Here is part of a critique written by a person who actually went to the bother to ring me and ask for a copy of the script to check various bits.
Bierseliges Bashing
"Denn in dieser einen Stunde ist Franklin, der Techniker, der Star. Er ist seine Show: Da steht er und wettert, schimpft und polemisiert. Alles und jeden nimmt er während seiner wütenden Tour d'Horizon ins Visier. Vor allem aber betreibt er ausgreifendes und süffisantes Theater-Bashing. Jeder bekommt sein Fett weg: Das kulturbeflissene Publikum, das mit verschränkten Armen und 'Entertain me!'-Attitude im Theatersaal sitzt, die Regisseure, die komplizierte Bühneninstallationen über den Haufen werfen…und Schauspieler, die sich diebisch freuen, wenn sie ihren Kollegen statt auf der großen Bühne in einem billigen Werbespot sehen. Es sind bösartige, manchmal etwas grobschlächtige kleine Apercus, die dem Publikum sichtlich Freude Bereiten."
Nina Giaramita – AKT.22 April 2011
This show was swiftly followed by the World Premiere of
A SPECIAL RELATIONSHIP, which was conceived, written and then eventually performed by myself and the fabulous Andy Valvur. Note the same look of panic on my face as in the above photo.
It is such a great show, well, that's what Andy says anyway, that it has its very own website –
As I was feeling so good, having left Deutsche Welle's idiotic management to self- implode, I mean, who needs an independent news broadcaster when everything is so peaceful in the world today, I directed PHIL NOIR, my satirical homage to, er, film noire.
Superbly bad timing, plus Köln's critical apathy towards the bijou Theater am Sachsenring, led to small audiences until the very last week. Not to worry, I shall be staging it again, hopefully with the same cast of Pierre Shrady and Anne Simmering, and myself of course, sometime soon.
"Ein weiterer wunderbarer "englischer Abend" im Theater am Sachsenring." Kölnische Rundschau 20.05.11
I also directed one of my oldest plays, MESS, in its first professional German production, under the title GESTRESSTE SCHWESTERN for the madly prolific Horizont Theater, in Köln.
"Gestresste Schwestern": Schräge Klinik-Groteske im Horizont Theater
"…eigentlich ist es…ein Slapstick-Comic, der krass mit den Klischees aus Arztromanen…spielt. Und der vor allem den Darstellern eine wunderbareSteilvorlage bietet, hemmungslos auf den Putz zu hauen. Und das tun alle drei mit großer Lust und ebenso großem Talent."
Barbro Schuchardt – Kölnische Rundschau 01.06.11
Link To Schnüffler, Sex und Schöne Frauen
Link to Traumfrau Verzweifelt Gesucht
KRITIK von STUMM!:
All photos on this page are by Wolfgang Weimer, friend and  great photographer, sadly no longer with us.
---