WHAT'S THE MATA HARI?
Posted on July 7, 2011
Now some people might think this strange but I listen to Woman's Hour, the very long-running radio programme, on BBC Radio 4 almost on a daily basis. One morning there was an interview with a woman who was writing a biography about the person we know as Mata Hari. She hadn't finished it yet so I think the interview was slightly ill-timed but it was pointed out that although the name Mata Hari is well-known, very little has actually been written about who she really was. There have been two films, one with Sylvia Kristel of Emmanuelle fame and one with Greta Garbo, but both films were based on the legend of Mata Hari rather than the short and rather tragic life of the Dutchwoman Margaretha Zelle. Well, I couldn't leave it there, could I?
At the time I was going through a very difficult period. My erstwhile friend and tour manager had decided that he was the boss and told me that if I didn't do what he ordered me to, he would throw all of the toys out of the pram. And this is what he did, poor chap. I needed a new show, essentially a two-hander, fast, and wonderfully Charlotte Collins was on hand and was enthusiastic about the idea.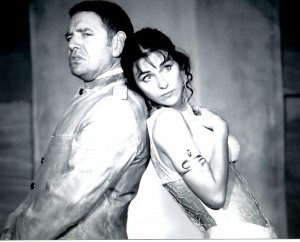 As Charlotte is fond of reminding me, the last couple of scenes were written probably just hours before the premiere. As I said, I was in a bit of a state.
Not to worry, Charlotte was wonderful in the part, and I camped it up as ever.
Somehow I managed to write a comedy about someone who was violently abused by her husband, whose son was murdered and who was shot as a traitor at the age of 41. OK, it had lots of dramatic bits in too, mainly due to Charlotte's grand performance.
We toured it over a number of years around Germany, The Netherlands and Belgium.
I dearly wanted to perform it at the Mata Hari museum in her birthplace, Leeuwarden, in The Netherlands, but the curator was most unhelpful and unimaginative.
Here is a critique from the Kölner Stadt-Anzeiger of the premiere at Theater am Sachsenring:
---